January 2018 Book of the Month
Here's one of the new things I want to try on the blog! I want to have a book of the month. This month, I'm going to suggest a book that I really like. This month, and every month this year, I'll post here about a book and where to get it. Then you have until the end of the month to read it! On the last day of the month, I'll go live on Facebook live (is google hangout still a thing?) and we'll have a discussion about it. It'll be fun and easy! We can connect and make new friends.
This month, I'm going to suggest
Outlander
. I chose Outlander because it's one of my obsessions right now. I love the badassery of Claire. I love the ode to history. I love Jamie Fraser. I love the action. The only thing I'm not a fan of: it's a very "wordy" book and there's long sentences with Scottish and British terminology. If you read this book though (and you love it), it's actually a series! Right now, the author is working on book number nine and will finish the series with book number ten. So you can fall in love with the characters and continue a big, long story.
I think all types of people will love this though. It isn't really a romance story. It's a historical fiction with some action and romance thrown in. Plus, there's a great STARZ series based on the books. Each season is a book. Right now, they're filming season four!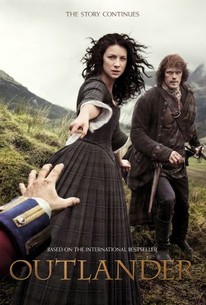 Summary:
After serving as a British Army nurse in World War II, Claire Randall is enjoying a second honeymoon in Scotland with husband Frank, an MI6 officer looking forward to a new career as an Oxford historian. Suddenly, Claire is transported to 1743 and into a mysterious world where her freedom and life are threatened. To survive, she marries Jamie Fraser, a strapping Scots warrior with a complicated past and a disarming sense of humor. A passionate relationship ensues, and Claire is caught between two vastly different men in two inharmonious lives.
Amazon: $9.57 (paperback)
Amazon Kindle: $3.99
Barnes & Nobles: $9.99
Books-A-Million:$9.99 (marketplace $2.99)
Walmart: $9.57
Target: $7.11
Have a book that you think should be the book of the month?
Go to the suggestion box
here
and list what book you think we should read next month and why. We may pick the book! We'll discuss Outlander on Facebook live on Wednesday, January 31st at 6pm.