Riverdale (CW).
I was incredibly excited whenever Riverdale was announced. I watch pretty much anything that the CW, Freeform, or ABC puts out because it's usually decent (with some exceptions). I decided to give this one a try definitely though. I never extensively read the comics, but I have read some. So I expected a recreation of the Archie Comics.
The Archie Comics and the CW show 'Riverdale' are set in the fictional small town of Riverdale. The state or even the general location of the town is unspecified. Archie first appeared in Pep Comics #22 in 1941. Due to his popularity, he was given his own series which debuted in 1942, known as Archie Comics. The series ended with issue #666 (in June 2015) to make way for a new series set in Archie Comics' "New Riverdale".
Here is an example of the comic: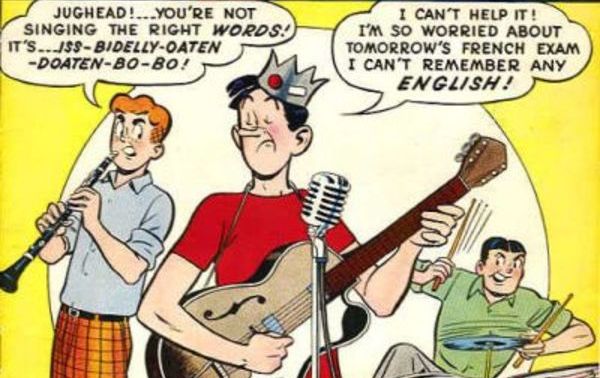 Riverdale has a cast who seem to perfectly fit the bill. We are introduced to Archie Andrews (K.J. Apa), Betty Cooper (Lili Reinhart), Veronica Lodge (Camilla Mendes), Jughead Jones (Cole Sprouse), Hermione Lodge (Marisol Nichols), and Cheryl Blossom (Madelaine Petsch). We were introduced in the first episode to a slew of minor characters in addition to our Archie favorites.
A subversive take on Archie and his friends, exploring small town life, the darkness and weirdness bubbling beneath Riverdale's wholesome facade. It is more of a murder mystery meets young adult drama. Cheryl Blossom's twin brother has died and it adds a devastating twist to this small town. It has undertones of sexuality underneath its quirky exterior.
The entire episode I was interested on what was going to happen next. Cole Sprouse/Jughead Jones played the narrator during the premiere and guided the viewers perceptions of Riverdale. I was impressed by the casting and how well they brought them all to life. I believe I'll watch the entire season/series. I have that WHODUNIT feeling inside as well as interested in the relationships blossoming between the characters.
You can catch Riverdale on the CW every Thursday at 9/8c and the free CW app the next day.